2010-2011 1. Achieving efficiencies for faster and greater disclosure
For the second consecutive year, we closed more than 2,000 investigations. We reduced the average time to conclude cases and further decreased our inventory of complaints. We improved our efficiencies in processing administrative complaints to enable us to focus more intensively on refusal complaints, with the goal of facilitating greater disclosure of information. The large proportion of refusal cases pending at year-end, particularly those involving issues of national security and international affairs, speaks to the complexity of our caseload. These challenges have required more sophisticated approaches as well as more frequent use of formal powers.
Path to efficiencies
In 2010–2011, we intensified our quest to reduce the inventory of complaints and maximize disclosure for the benefit of access requesters. We closed more than
2,000 cases for the second consecutive year. We improved the turnaround times, notably by completing more cases in fewer than nine months. This success results from the streamlining of our intake and early resolution processes over the last two years as well as from the implementation of clear procedures for triaging complaints and obtaining records from institutions. We collaborated with requesters and institutions to negotiate the most satisfying solutions possible.
The detailed knowledge of our caseload enabled us to refine and increase strategies to generate more and faster results. Last year, 82 percent of the complaints we registered involved 16 institutions. We grouped complaints by institution, type, subject matter or requester, and worked to resolve them simultaneously. Using this portfolio approach, we are addressing more than 1,200 complaints, or almost one third of our inventory, involving 10 institutions. Resource-intensive investigations—notably into longstanding complaints—and cases requiring knowledge of specific business lines or issues are assigned to dedicated teams or specialized investigators.
We resorted more frequently to using the Commissioner's formal powers to address persistent issues of non-compliance, as well as complex cases raising contentious issues. For example, our investigation of the high-profile case of political interference at Public Works and Government Services Canada required that we conduct a number of formal inquiries with the assistance of expert counsel to protect the rights of all parties involved and to guarantee procedural fairness. In reporting her findings, the Commissioner made several recommendations, which the Minister accepted. The institution developed a comprehensive action plan aimed at preventing such interference from occurring in the future.
Our investigative units—fully staffed as a result of intensive recruiting efforts over the last two years—have benefited from targeted training geared to our business requirements. Training has focused on specific areas of investigation as well as the application and interpretation of the law to assist in quickly pursuing the relevant lines of inquiry. Our career development opportunities have enabled us to effectively prepare junior investigators for more complex and challenging investigations.
More cases closed…
In 2010−2011, we registered 1,828 new complaints, including 18 that the Information Commissioner initiated herself. This represents an increase of 8 percent from the number we had registered the previous year (1,689). Continuing the recent trend, administrative and refusal complaints account for about the same percentage of new complaints, as illustrated in Figure 1.
We closed 2,061 cases, thus decreasing our inventory by 11 percent (233 files). As Table 1 shows, this is the second substantial dent in our inventory in two years. Since 2008–2009, the inventory has been reduced by 28 percent. At the end of 2010–2011, there were 1,853 complaints pending, including 190 cases awaiting the outcome of litigation (127 carried over from 2009–2010 and 63 from 2010–2011). This compares to the 2,083 cases that were carried over from the previous year.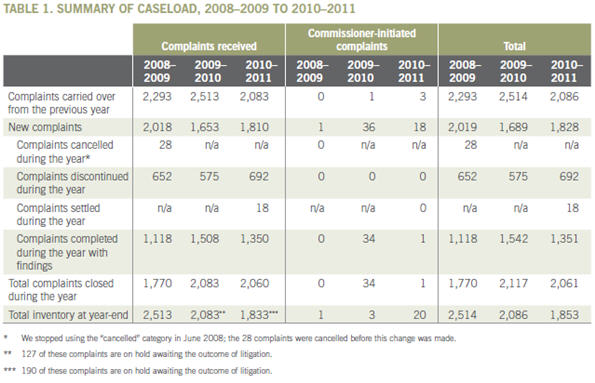 … In less time
We also reduced the average time it took to conclude investigations by 8 percent—from 443 days in 2009–2010 to 401 days in 2010–2011. As Figure 2 illustrates, the number of cases completed within nine months increased from 840 complaints (or 40 percent of all cases completed) to 1,087 complaints (53 percent of all cases completed). We expect to see a further decline in the average turnaround time as we work to reduce our inventory of complaints to a manageable size.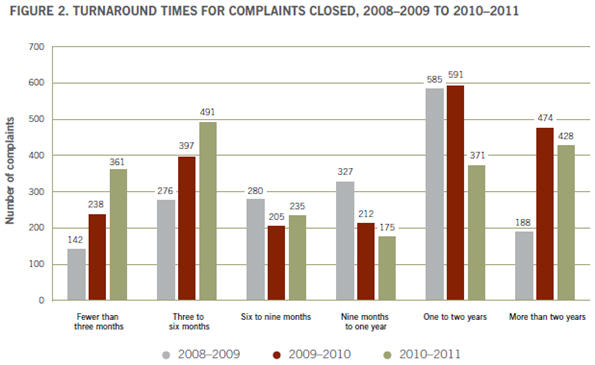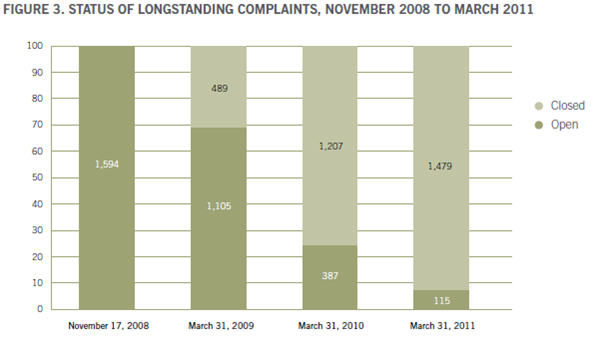 Resolving old cases
Another significant achievement is the substantial decrease in the number of our longstanding cases. As Figure 3 shows, only 115 cases remain from before 2008–2009, the year we started streamlining our processes and taking critical action on investigations. This represents a reduction of 93 percent overall. Complex and contentious, these old cases are the most difficult to resolve, because of the issues at stake and the passage of time. Almost 30 percent involve issues of national security and international affairs. We succeeded in resolving the oldest case in our inventory, which dated back to 2002.
Expediting administrative complaints
As Table 2 illustrates, our achievements so far largely result from efforts at quickly resolving administrative complaints, as per our practice direction on triage. Administrative complaints generally pertain to delays, extensions, fees and similar issues. Our goal is to resolve 85 percent of those complaints within three months so that investigators can focus more intensively on the substantive and challenging refusal complaints. In 2010–2011, 32 percent of all administrative complaints closed were completed within three months. This compares to 17 percent in 2009–2010 and just
10 percent in 2008–2009, prior to implementing our action plan stemming from the audit of intake and early resolution processes.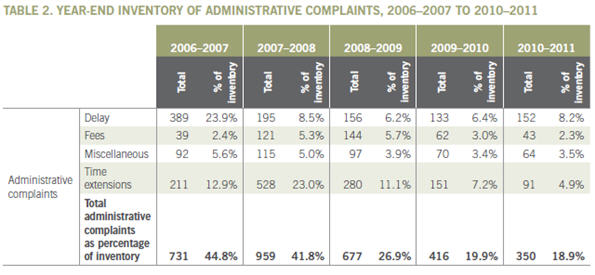 This progress also reflects efficiencies at the intake stage. We have improved the way we collect and register the information needed for investigations. We now analyze, triage and register administrative complaints within 7 days of receipt, compared to 19 days in 2008−2009. We have reduced the time to obtain records from institutions, as per our practice direction, from 95 to 15 days (see Table 3).
Due to the fact that the Intake and Early Resolution Unit was not fully staffed during the first months of the year, we experienced some setbacks in our ability to quickly assign new cases to investigators. As the new recruits gain experience, we are confident that we will continue to move closer to our targets. To efficiently resolve administrative complaints this year, we solicited and obtained cooperation from a number of institutions, notably Canada Mortgage and Housing Corporation, the Canada Revenue Agency, the Department of Justice Canada, the Department of Finance Canada, Library and Archives Canada and the National Parole Board.
Strategizing case management
Through improved and detailed reporting, we maintained close scrutiny on our inventory of complaints, analyzing it steadily to determine the most effective way to handle the various types of complaints we receive. Among other case management strategies, we made substantial use of and further refined our portfolio approach.
CASE MANAGEMENT STRATEGIES
Triage of complaints
We assess all new complaints upon reception to determine whether we can resolve them quickly by way of an early resolution process or by assigning a priority level. Our goal is to complete all administrative complaints within 90 calendar days of their being registered. We may also attempt early resolution for some types of refusal complaint. Moreover, a complaint may be given priority because it is urgent or may have a significant impact on Canadians. The investigation is then closely monitored to ensure timely resolution. (See practice direction on triage of complaints for further details.)
Portfolio approach
Large numbers of similar complaints within our inventory may be grouped by institution, complainant, type of complaint or subject matter. They are then assigned to dedicated investigators or teams of investigators according to their skills, knowledge or experience. The teams will identify the most efficient strategies to address the complaints, then develop and implement an investigation plan. Depending on the level of complexity, the teams may be assisted by a director and senior counsel. Using this approach, investigators develop a better understanding of the subject matter and the circumstances leading up to complaints. This expertise generates efficiencies and helps formulate better ways to respond to complaints and prevent them from reoccurring.
Commitment dates
Negotiating a commitment date often proves to be an effective way to help a complainant obtain a response from an institution as quickly as possible after the legal deadline has expired. When we determine that a delay or time extension complaint is well founded, we may attempt to negotiate a reasonable date by which the institution commits to provide a final response to the complainant. In doing so, we consider a number of factors, including the facts obtained during the investigation, representations from the parties, the institution's level of cooperation and its past performance in meeting response deadlines or commitment dates.
Early management intervention
We closely monitor our progress on files and promptly raise issues of concern with institutions' senior officials, when required. This close monitoring helps us prioritize our program of regular meetings between deputy ministers and our senior managers to discuss institutions' working environments, challenges in providing timely access to information and how best to collaborate to resolve complaints. These high-level meetings also help identify systemic problems that would benefit from broad-based solutions, involving central agencies and lawmakers.
Special Case Review Committee
A senior-level committee with representatives from across our organization meets as required to examine cases raising new challenges for the investigative process and to identify the appropriate course of action, including possible recommendations to institutions.
Formal inquiries
Section 36 of the Access to Information Act provides the Commissioner with explicit investigative powers, including the authority to conduct formal inquiries. These inquiries involve taking evidence under oath, often at the request of witnesses who may be represented by counsel. We generally engage the services of an expert counsel to conduct formal inquiries to ensure procedural fairness and natural justice.
Action plan for requests subject to litigation
Given the substantial number of complaints awaiting the outcome of litigation, we have developed and implemented a plan to address cases under investigation and incoming complaints pertaining to the same issues, such as access to records of the Canadian Broadcasting Corporation on journalistic, creative or programming activities. For all assigned cases, investigators inform complainants that we are holding the files in abeyance until the legal proceedings are completed. These files are properly identified within our case management system to facilitate subsequent retrieval and processing. New complainants receive a standard letter of acknowledgement to inform them of the legal proceedings and the abeyance process. The letter also provides instructions for follow-up, including proceeding on any other issues.
Periodic review of oldest inventory
We take a strategic approach to closing longstanding cases. We periodically review our inventory. Following our regular investigative processes, cases that have demonstrated little or no progress towards resolution are assigned to a dedicated team of experienced investigators. These investigators carefully review every aspect of the files and work with complainants and institutions to break impasses and bring the cases to resolution.
Our investigators specialize in types and topics of complaints, particular complainants and specific institutions. In doing so, they build working relationships with stakeholders, become well versed in the subject matter that complaints frequently address, and develop a better understanding of the specific circumstances leading up to complaints. They work with complainants and institutions to prioritize bulk or longstanding complaints. In some cases, complainants may decide to group or discontinue some files, so that we can complete the cases of most importance to them more quickly.
In 2010–2011, we devoted much attention to cases involving the Canada Revenue Agency (CRA). As seen in Table 4, CRA accounted for the largest number of complaints filed with our office for the third consecutive year (more than 20 percent of our inventory). A wide range of issues has affected CRA's compliance with the Access to Information Act: a backlog of requests, multiple requests from two individuals, a large volume of records to review, broad application of exemptions, and a lack of resources. These challenges have translated into hundreds of delay complaints, and a large number of fee assessment and refusal complaints.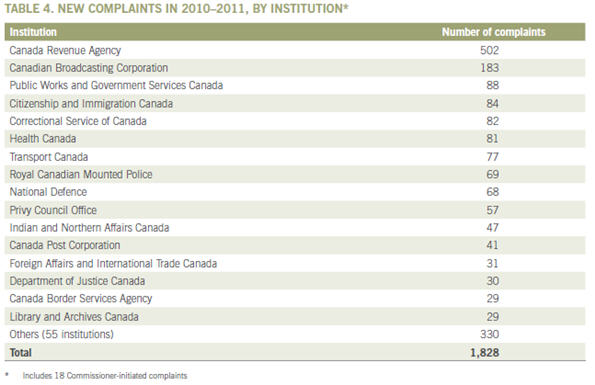 We reviewed all complaints against the institution and learned more about its core business. We identified approaches for investigating various groups of complaints, which were discussed with senior CRA officials. We assigned a small team to investigate
40 complex refusal cases that were similar and involved a large volume of records. Making full use of her powers, the Commissioner initiated a complaint about a deemed refusal case after CRA did not follow up on the commitment date it had agreed to with our office. The Commissioner wanted the institution to give the complaint the priority it deserved and to work to complete it.
We tasked two investigators with processing more than 240 complaints filed in recent years by the same individual, after he had made multiple requests for records on the same topics. For efficiency purposes, investigators consolidated all complaints into
29 topic-based complaints, and the investigations are under way. Another investigator successfully mediated the resolution of hundreds of delay complaints filed from a frequent access requester. With the institution's collaboration, the investigator negotiated a fee structure for the specific types of request that the requester expects to make on a regular basis.
We also investigated several other refusal complaints that were complex and involved a large volume of records. As a result of these focused efforts, we were able to close 252 cases involving the institution (Table 5). CRA revised its delegation order to provide more authority to the access to information coordinator. It also developed a comprehensive plan to address issues of staffing, training, processing of requests and the backlog to more closely monitor performance and improve compliance under the Act. More information can be found in our 2008−2009 report card and CRA's 2009−2010 progress report.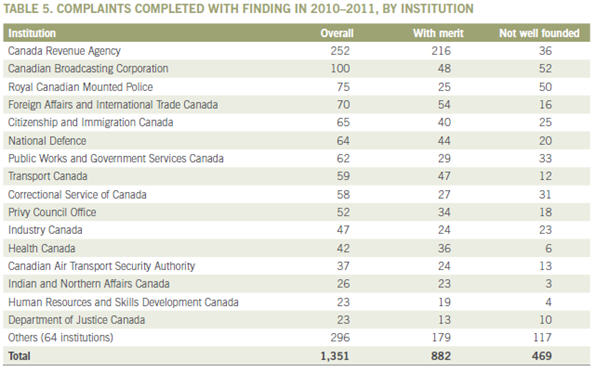 Using the range of formal powers
We have strong investigative powers under the Access to Information Act, and we invoke them as needed to advance our investigations. They range from requesting relevant records from an institution, and compelling their production when necessary, speaking with individuals in private, conducting interviews, providing complainants and institutions with an opportunity to make oral and written representations, as well as seeking affidavit evidence.
In some cases, we may hold formal inquiries to gather evidence with minimal delays, while ensuring procedural fairness and natural justice. Formal inquiries involve compelling witnesses to appear and produce documents, conducting examinations under oath with the assistance of expert counsel, and issuing confidentiality orders to witnesses and counsel to maintain the integrity of our private investigative process. If we find evidence of the possible commission of an offence, we may disclose information to the Attorney General of Canada.
When we determine that a complaint is well founded, the Commissioner reports her findings to the complainant and the institution. When she chooses to make formal recommendations to the institutional head to resolve the issue (subsection 37(1) report), she provides an opportunity for him or her to respond before issuing her report to the complainant.
In 2010–2011, the Commissioner found it necessary to issue seven reports of well-founded complaints with recommendations to institutional heads. This is almost twice the number the Commissioner issued last year. We also issued a substantial number of subpoenas to produce records, and numerous confidentiality orders. We conducted
24 formal inquiries related to cases of alleged interference with the access to information process.
A more complex caseload
Our success at quickly resolving administrative complaints and reducing our overall inventory has led to a shift in the nature and complexity of our caseload. In 2007–2008, when our current business model was developed, the inventory of complaints
(2,293 cases) included a near equal share of administrative cases (41 percent) and refusal cases (49 percent). In 2010–2011, 80 percent (more than 1,400 files) of the caseload consisted of refusal cases, which tend to be more complex to investigate (Figure 4).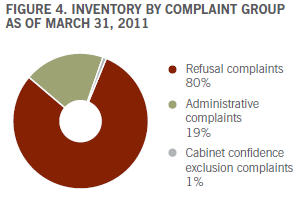 Table 6 highlights the shift in the percentages of administrative and refusal complaints in our inventory over the last few years. It reflects the positive impact of the initial measures introduced in 2008−2009 to streamline the processing of administrative complaints. More importantly, it shows the steady increase in "special delegation" cases within the inventory. These cases involve issues of national security and international affairs, which must be investigated in accordance with special requirements. In 2010–2011, special delegation cases represented 12 percent of newly registered refusal cases. Moreover, 6 percent of the new refusal cases (38 cases, including one initiated by the Commissioner) were deemed priorities—that is, they were considered to be urgent or to have significant impact on Canadians, according to established criteria.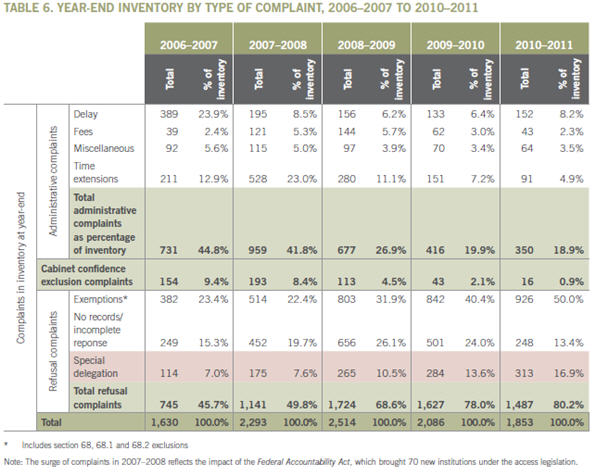 Given the challenges associated with our current caseload, management undertook a consultation process with all investigative units at year-end to assess, refine or develop investigative strategies, training and tools to efficiently handle refusal complaints and complex cases. Our goal is to improve the effectiveness and timeliness of investigations, while maximizing disclosure of information and compliance with the Act. We will be devoting additional efforts to managing and investigating cases of national security and international affairs, since these issues will likely continue to generate both attention and resistance to disclosure.
In March 2011, we also initiated an internal audit of our business processes for investigations. We expect that this exercise will provide the same range of benefits as the previous audit did for our Intake and Early Resolution Unit (see also the Management Response to the May 2009 audit report and Action Plan). The implementation of the new case management system (InTrac) will contribute further efficiencies by enhancing the consistency of investigative and documentation processes, the tracking and monitoring of case files as well as the completeness of information for decision making.