2008-2009 2. The new business model
Our 2007–2008 annual report set a bold new direction for the Office of the Information Commissioner.1 This new direction involved making profound institutional changes to address inherent weaknesses that were significantly limiting our ability to do our job and to provide top-notch client service. We followed up in 2008-2009 with the introduction of a new business model tailored to meet our unique needs and challenges.
One of the major challenges we faced was a large and long-standing backlog of complaints. Despite considerable efforts over the years to reduce this inventory, the situation reached a critical point by the end of 2007–2008, due to the unprecedented number of complaints we received that year. This sudden increase put unmanageable pressures on operations, and it became evident that we had to change the way we worked or we would be unable to deliver on our mandate.
In 2008–2009, we developed a new business model to meet these challenges, and with the following goals:
to streamline our investigative process to increase efficiency and timeliness so we can eliminate the inventory and prevent it from recurring;
to adopt a strategic and proactive approach to addressing systemic issues and non-compliance; and
to use a spectrum of tools that support our investigative and systemic actions to maximize compliance.
An improved investigative process
We undertook a critical exam of our key business processes and productivity levels based on case type and complexity, and did significant business re-engineering, to address case management issues that have contributed to the growing inventory. We introduced the resulting streamlined investigative process in the fall of 2008–2009 (see diagram below).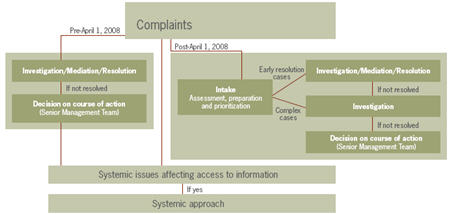 1 For more information, go to www.oic-ci.gc.ca/reports/2007-2008-e.asp
Pre-April 1, 2008 cases
Our goal is to eliminate the older inventory of 1,594 cases by March 31, 2010. A multi-disciplinary team of experienced employees reviewed these cases and recommended the best strategies for completing them expeditiously. We then established a dedicated team, the Strategic Case Management Team, to implement these strategies, working closely with complainants and institutions. The team first worked on administrative complaints that it could complete quickly. This brought immediate and substantial results: in only four months, the team completed 489 cases, representing a 31 percent decrease in the inventory (see Chapter 3).
Post-April 1, 2008 cases
For post-April 1, 2008 cases, we now take a three-step approach.
First, to ensure that investigators do not spend time on administrative tasks ─ such as setting up files, delivering the notice of intent to investigate to the institution, and gathering initial information ─, we process complaints through the Intake Unit. This unit does the initial assessment and preparation of complaints to be investigated. It reviews documentation related to the original access request and gathers information from the complainant and the institution to undertake the initial assessment. It also ensures that the complaint is made in accordance with the Act before it is processed any further.
Moving quickly on priorities
One group of complaints involved access requests submitted to various institutions where extensions were taken. Using our new procedures, the Intake Unit determined that there was the possibility of significant loss of rights which could result from delays. The cases were immediately assigned on a priority basis.
The Intake Unit prioritizes cases that can be resolved quickly and easily, according to a set of criteria (see checklist below). It also identifies administrative efficiencies in the processing of complaints both for ourselves and for institutions with which we interact.
Candidates for early resolution?
What's the priority?
Administrative complaints

These complaints involve, for example, extensions, fees (particularly for photocopies), deemed refusals (delays beyond the times set out in the Act), and misdirected requests.

Urgency

Are there crucial deadlines to meet, such as those for court cases?

Is there a risk of loss of rights, or are broader human rights at stake?

Are there concerns for public safety?

Exclusions

These complaints involve records to which the Act does not apply, such as those placed in library and archives for public use.

Impact

Does the case affect the public interest?

Are there systemic issues involved?

>Does the file centre on national security or government accountability?

Is there judicial interest?

Mandatory exemptions

 

All complaints involving mandatory exemptions and those involving discretionary exemptions, when the file involves a low number of records, all of which are readily available. (Information may be exempted when, for example, it may compromise the safety of an individual. Personal information is also exempted.)

Nature of the complaint

Is it an administrative complaint or one about a refusal due to an exemption or exclusion?

How complex is the case?

What volume of records is involved?

What is the subject matter?

Other considerations

These include the probability of resolution and the location of the institution.

Other considerations

Is the statutory duty to assist at issue?

How long has the file been registered?

What are the complainant's priorities?

Is there parliamentary interest?
Second, the Early Resolution Unit investigates cases that have been earmarked for early resolution by the Intake Unit. Through mediation and negotiation, it attempts to reach an early resolution of complaints to the satisfaction of the complainant and the institution.
Early resolution through negotiation
A case of multiple complaints from a single requester about time extensions emphasizes the benefits of an early resolution mechanism involving flexible approaches and alternative dispute resolution methods. 
A complainant alleged that time extensions ranging from 240 to 365 days that the Canada Revenue Agency (CRA) invoked in 54 cases were excessive.
The extensions were invoked under paragraph 9(1)(a) of the Act, which means they must meet two criteria: that the request is for a large volume of records, or requires a search through a large volume of records, and that, consequently, meeting the original time limit would unreasonably interfere with operations.
In this case, CRA took the view that, because the complainant submitted multiple requests and was therefore responsible for a large percentage of the access to information office's workload, it had little option but to claim extensions in order to be able to process all of the requests.
All 54 complaints were assigned to one investigator, with the Early Resolution Unit, who met with CRA officials on a number of occasions to discuss their rationale for invoking these extensions. Through concerted efforts and negotiations with both the institution and the complainant, we were able to conclude our investigation within one week after receiving all pertinent documents from the institution. The complaints were resolved to everyone's satisfaction.
Third, we assign cases that do not qualify for early resolution, or those for which early resolution was not successful, to the Complaints Resolution and Compliance team. These more complex cases are advanced based on the priority established by the Intake Unit.
Our approach aims at achieving satisfactory results through mediated or negotiated outcomes, as early as possible in the review, and avoiding the need for more drastic, adversarial proceedings, which are both costly and time-consuming. However, for institutions that disregard the law or fail to take advantage of alternative case resolution, we will take the necessary action to respond to non-compliance.
New streamlined approaches for Cabinet confidences
The Intake Unit reviewed processes in relation to complaints involving Cabinet confidences. Previously, we would open separate investigative files with the originating institution and the Privy Council Office's (PCO) access to information office, which would in turn notify Cabinet Confidences Counsel. The Counsel, which is responsible for verifying that records qualify as Cabinet confidences, would then contact the originating institution to initiate a second review of the records at issue.
Under a new, streamlined approach, we forward a copy of the notice of intent to investigate to the Counsel, with which we then work directly. We no longer initiate a separate complaint against PCO. This means that PCO's access to information office is no longer automatically involved and no longer needs to report the fact that it received complaints with respect to Cabinet confidences emanating from other institutions. This approach eliminates duplication of files among offices within PCO and the institution.
We decided to discontinue such duplicate complaints against PCO (82) and simply investigate the Cabinet confidence complaints made against the originating institutions. As a result, we have eliminated duplication and unnecessary administrative actions in our own office.
Strategic use of systemic actions
Many compliance problems cannot be solved adequately when treated in isolation, independent of the larger issues affecting the access to information system. To effect greater compliance across federal institutions and to reduce the number of complaints we receive, we approach certain problems with a more strategic and proactive approach. By integrating key information, observations and conclusions drawn from our own experience and that of our stakeholders, we can suggest more effective solutions and achieve better results.

As preventative or proactive actions, we review complaints and extension notices (for time extensions taken beyond 30 days) to identify systemic issues, or undertake a systemic investigation to formally address a problem hindering access to records of federal institutions. We also review and grade the performance of federal institutions in complying with the Access to Information Act. These assessments are called "report cards." These reviews provide information about the challenges, weaknesses, strengths of the federal institutions, and assesses what progress has been achieved. (More information on report cards and systemic issues is provided in Chapter 4.)
These actions enable us to develop expert and independent advice about the access to information implications of legislation, jurisprudence, regulations and policies. The Commissioner can then bring this unique perspective regarding access to information to parliamentarians, public servants, federal government institutions and the Canadian public.
In a context of limited resources, maximizing compliance is sometimes best achieved through the use of a variety of tools that are interdependent and that also complement investigations and systemic actions. General application tools involve ongoing proactive efforts, directed at a broad range of stakeholders, to promote requesters' rights and develop partnerships. The aim is clearly to prevent non-compliance and to facilitate compliance. In contrast, specific application tools are directed toward individual parties in specific circumstances that result in or could lead to non-compliance.
To promote compliance, it is important that officials who are involved in the access to information process understand the basic principles and requirements of the legislation and related policies. They must also be aware of citizens' expectations regarding what government information should be available to them and how it should be disseminated in an increasingly sophisticated electronic environment. It is equally important that requesters be aware of and understand their rights and how to exercise them. Collaboration with important stakeholders at all levels is key for achieving these objectives. The Information Commissioner is the critical link between all players and can promote compliance through information and strategic partnerships.
In cases of potential or alleged situations of non-compliance, conducting investigations into matters affecting access rights often reaps the benefit of encouraging parties to comply without resorting to more drastic actions. Mediation and negotiation generally produce mutually satisfactory results that are less costly and less time-consuming than adversarial measures. However, it is important to note that means of suasion and resolution are balanced with the full range of adversarial tools at the disposal of the Commissioner in cases where vigorous enforcement is necessary to ensure compliance with the legislation.
The table below shows how our activities work together to achieve the greatest impact to maximize compliance.
Compliance continuum
Compliance through information and partnerships
Facilitating compliance
Responses to non-compliance

Annual and special reports to Parliament

Advice and representations to Parliament

News releases and media interviews

Speeches, presentations, information sessions and seminars

Input and representations to Central Agencies (e.g. the Treasury Board Secretariat)

Participation at access to information community events

Liaison with federal, provincial, territorial and international information and privacy commissioners

Liaison with national and international freedom of information communities and civil society groups

International parliamentary assistance

Website, blogs and podcasts

Right to Know Week

Review of complaints to identify systemic issues

Systemic investigations (proactive)

Report cards

Review of extension notices

Consultations with access to information stakeholders, including institutions and users

Compliance programs

Case summaries and Commissioner's findings

Reference guides, information notices and best practices

Investigation guidelines (GRIDS)

Training <

| | |
| --- | --- |
| Suasion and resolution | Adversarial |

Investigations and systemic investigations (reactive)

Early resolution

Well-founded complaints accepted

Commissioner-initiated complaints

Mediation and negotiation

Informal representations to senior officials

Commissioner's interpretations of policy positions

Reports of findings and recommendations

Special reports to Parliament

Exercise of formal powers (e.g. subpoenas and hearings)

Non-resolved complaints

Federal Court actions

Interventions in court

Referrals for prosecutions

GENERAL APPLICATION
>SPECIFIC APPLICATION