ETHI floor plan and member biographies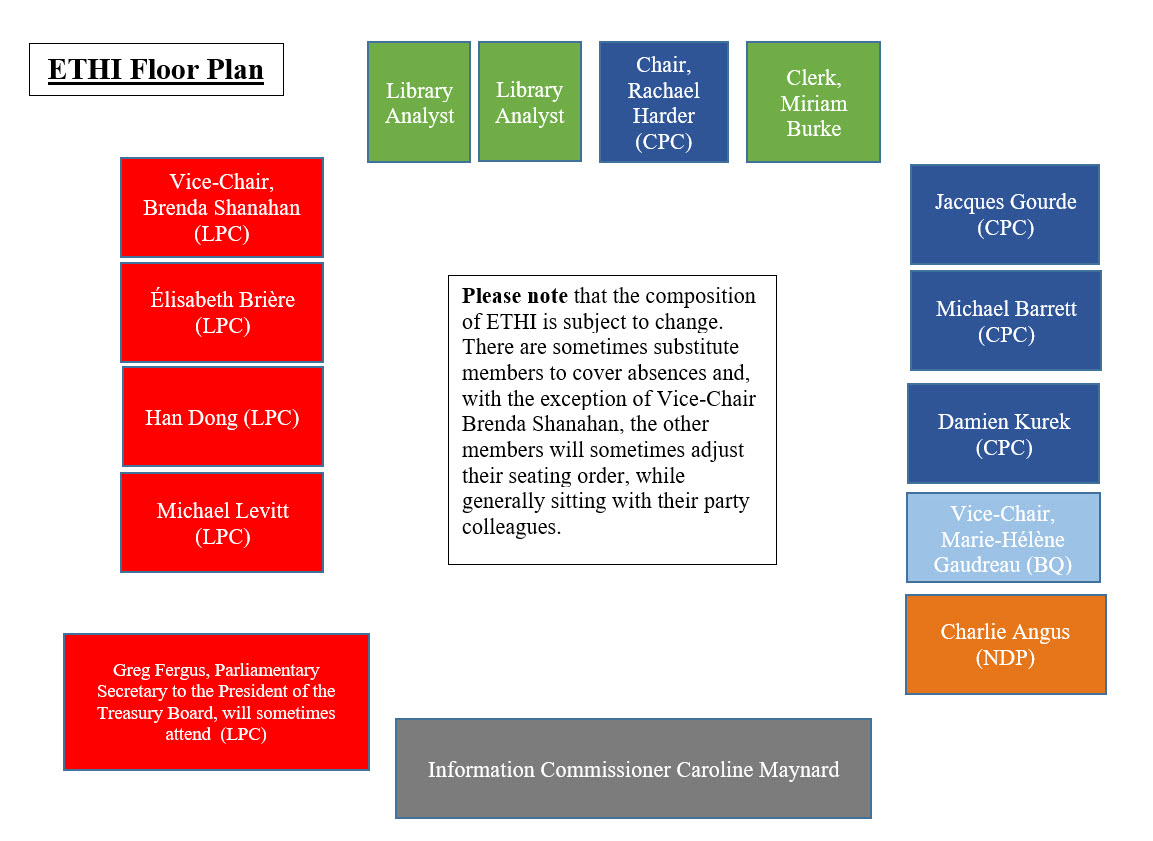 Text version

The image depicts the ETHI floor plan for the March 11, 2020 appearance.

To the top left of the image is a white box outlined in grey that reads ETHI Floor Plan.

Under this box still to the left, are 4 boxes the same size that are red that read,

box 1 Vice Chair Brenda Shanahan with LPC is brackets.
box 2 Elisabeth Briere with LPC in brackets.
box 3 Han Dong with LPC in brackets and
box 4 Michael Levitt with LPC in brackets.

There is a bigger red box in the lower left corner that reads

Greg Fergus Parliamentary Secretary to the President of the Treasury Board.

Will sometimes attend with LPC in brackets.

To the bottom center of is a grey long box that reads

Information Commissioner Caroline Maynard.

To the bottom far right of the picture is an orange box that reads

Charlie Angus with NDP in brackets.

Above that box to the far right is a light blue box that reads

Vice-Chair Marie-Helene Gaudreau with BQ in brackets.

Above that box are 3 other boxes of the same size that are dark blue that read

box 1 Damien Kurek with CPC in brackets,
box 2 Michael Barett with CPC in brackets and
box 3 Jacques Gourde with CPC in brackets.

At the top right there is one box that is green that reads

beside that box to the left is a blue box the same size that reads

Chair, Rachel Harder with CPC in brackets.

To the left of that box is two boxes the same size that are green

box 1 that read Library Analyst and
box 2 Library Analyst.

From a distance overlooking the entire photo in bird view, you see a square layout of where each member sits during the appearance.

In the centre of the square layout is a white box with a grey border that reads

Please note in bold and the rest of the text not bolded that the composting of ETHI is subject to change.

There are sometimes substitute members to cover absences and, with the exception of Vice-Chair Brenda Shanahan, the other members will sometimes adjust their seating order, while generally sitting with their party colleagues.
Caption Here

Name
Caucus
Constituency
Biographical Notes
Photo

Rachael Harder

Chair

Conservative Party

Prince George - Peace River  - Northern Rockies

BC

First elected to Parliament in 2015.
Holds a Bachelor of Education and BA with a General Social Sciences Major in Sociology, Political Science, and Psychology from the University of Lethbridge.
Former sociologist and leadership consultant.
Former shadow Minister for Status of Women.
Former Shadow Minister for Youth and Persons with Disabilities.

 

 

Photo courtesy of the House of Commons

Brenda Shanahan

Vice Chair

Liberal Party

Châteauguay – Lacolle

 

QC

First elected to Parliament in 2015.
Holds an MBA, a Bachelor of Social Work and a Bachelor of History.
She has had a career as a banker, social worker and financial educator.
She has served on the Special Joint Committee on Physician-Assisted Death, the Standing Committee on Public Accounts and the Standing Committee on Government Operations and Estimates. She is now member of the Committee of Parliamentarians on National Security and Intelligence. She is also Vice-Chair of the Quebec Liberal Caucus, Vice-Chair of the Liberal Women's Caucus and Co-Chair of the Multiparty Global Health Caucus.

Photo courtesy of the House of Commons

Marie-Hélène Gaudreau

Vice-présidente

Bloc Québecois

Laurentides—Labelle

QC

Élue pour la première fois en 2019.
Détentrice d'un baccalauréat en communication relations humaines de l'Université du Québec à Montréal et d'une certification internationale en coaching de gestion.
Directrice de la Corporation de développement communautaire des Hautes-Laurentides.
Occupait le poste d'attaché politique, de 2009 à 2011, de la députée Johanne Deschamps, qui représentait également la circonscription de Laurentides-Labelle sous la bannière du Bloc québécois.
En charge des dossiers du Vivre-Ensemble, de la Laïcité, de l'Accès à l'information, de la Protection des renseignements personnels et Éthique dans son cabinet fantôme.

Photo courtesy of the House of Commons

Charlie Angus

New Democratic Party

Timmins – James Bay

 

ON

First elected to Parliament in 2004.
The NDP Critic for Indigenous and Northern Affairs (Youth).
Co-founded the campaign Shannen's Dream calling on the federal government to end the underfunding of First Nations schools across Canada.
Elected Caucus Chair in January 2016.

Photo courtesy of the House of Commons

Michael Barrett

Conservative Party

Leeds-Grenville-Thousand Islands and Rideau Lakes

 

ON

First elected to Parliament in 2018.
Named the Deputy Shadow Minister for Small Business and Export Promotion as well as a regular member of the Standing Committee on Justice and Human Rights.
Named the Shadow Minister for Ethics.
Served in the Canadian Armed Forces as a Telecommunication Lineman.
Worked in the private sector as a Human Resources Manager while also serving as a Municipal Councillor in the Township of Edwardsburgh Cardinal.

Photo courtesy of the House of Commons

Élisabeth Brière

Liberal Party

Sherbrooke

 

QC

Élue pour la première fois en 2019.
Titulaire d'un baccalauréat en droit, d'un diplôme en droit notarial et d'un certificat en administration des affaires, Élisabeth a pratiqué le notariat pendant près de 30 ans en pratique privée.
Associée au sein d'un des grands cabinets de la région, sa pratique est orientée vers le droit des personnes, l'immobilier et la médiation. Élisabeth est également chargée de cours à l'Université de Sherbrooke.
L'environnement est au cœur de ses préoccupations.

 

Photo courtesy of the House of Commons

Han Dong

Liberal Party

Don Valley North

 

ON

First elected in 2019.
Worked with a Toronto based high-tech company dedicated to building safer communities with digital neighbourhood watch technology.
Was the marketing director of Chianti Foods and then with the non-profit Canada Shanghai Business Association.
Spent nine years at Queen's Park serving in various advisor roles.

 

Photo courtesy of the House of Commons

Greg Fergus

Liberal Party

Hull-Aylmer

 

QC

First elected in 2015.
BAs from the University of Ottawa and Carleton University (social science and international relations).
Former director of industry practices for Rx&D (representing Canada's research-based pharmaceutical companies).
Former national director of the Liberal Party.

 

Photo courtesy of the House of Commons

Jacques Gourde

Conservative Party

Lotbinière—Chutes-de-la-Chaudière

 

QC

Élu pour la première fois en 2006.
Agriculteur.
2006-2011, cumule les postes suivants : Secrétaire parlementaire du ministre de l'Agriculture et de l'Agroalimentaire et du ministre de la Commission canadienne du blé; Secrétaire parlementaire du ministre des Ressources naturelles ; Secrétaire parlementaire du ministre du Travail et du ministre de l'Agence de développement économique du Canada pour les régions du Québec et Secrétaire parlementaire du ministre du Travail et du ministre de l'Agence de développement économique du Canada pour les régions du Québec ; Secrétaire parlementaire de la ministre des Travaux publics et des Services gouvernementaux et pour les Langues officielles, et pour l'Agence de développement économique pour les régions du Québec ainsi que président du caucus québécois conservateur.

 

Photo courtesy of the House of Commons

Damien C. Kurek

Conservative Party

Battle River—Crowfoot

 

AB

First elected in 2019
BA in Political Studies and Communications and a Diploma in Biblical Studies
5th generation farmer and for close to a decade worked seasonally in East Central Alberta's Oil and Gas Sector.
Worked for Kevin Sorenson, while he was Minister of State (Finance) and more recently in his Constituency Office.

 

Photo courtesy of the House of Commons

Michael Levitt

Liberal Party

York Centre

 

ON

First elected in 2015.
BA in Political Science from McGill University, and an MA in Science and Technology Studies from the University of Edinburgh.
Chair of the House of Commons Standing Committee on Foreign Affairs and International Development, and is a member of the House of Commons Standing Committee on Access to Information, Privacy and Ethics. He previously served as Chair of the Foreign Affairs Committee's Subcommittee on International Human Rights.
Before his election, worked as a partner and Vice President of Business Development for the Benjamin Group.
Founding member of the Canadian Jewish Political Affairs Committee.

 

Photo courtesy of the House of Commons