Deficit Reduction Action Plan
Office of the Information Commissioner of Canada

Contents
Background
Budget 2010 announced a number of cost containment measures to reduce the rate of growth in operating expenditures in 2010/11 and the following two years. To constrain costs and provide incentives for operating efficiencies in the delivery of government programs, the growth in department, agency, and Crown corporation operating budgets will be tightly managed by the Treasury Board (i.e. departmental operating budgets will be frozen at their 2010/11 levels, after adjustments in the 2011/12 Annual Reference Level Update (ARLU), for the following two fiscal years, 2011/12 and 2012/13).

Budget 2011 re-announced a "strategic and operating review" (SOR), now referred to as the Deficit Reduction Action Plan (OIC), to achieve at least $4 billion in ongoing savings by 2014/2015.

To achieve the OIC savings target, 67 organizations across government have been asked to identify savings proposals amounting to 5% and 10% of their total operating and grants and contributions expenditures.

The Minister of Justice, along with the Prime Minister, the President of the Treasury Board (TB) and the Minister of Finance strongly encouraged all Agents of Parliament to do everything in their power to adhere to the spirit and intent of the OIC exercise by undertaking a review to generate operating savings.

In his recent fiscal update Minister Flaherty announced that the government will not return to a balanced budget until 2015/2016, a year later than anticipated.
Approach
The Office of the Information Commissioner (OIC) undertook a review of its operating expenditures in the spirit of the OIC and the 2010/11 Cost Containment Measures.

The OIC was guided by the OIC criteria provided to departments for the development of savings proposals in conducting its own review exercise.
OIC Criteria
Program

Achieving results?

Government priority and affordable?

Needed and relevant?

Appropriate federal role?

Potential for greater efficiencies through delivery by other organization?

Internal Services

Are they as efficient as possible?

Do they deliver results and value for money?

Have standard business processes been adopted (e.g., Human Resources Business Solution Project, Finance)?

Potential to reduce duplication?

Operations

Are results being achieved efficiently?

Can program be delivered at lower cost?

How does it compare with delivery of similar programs in the private sector, other levels of government or internationally?
In addition to applying the OIC criteria, the OIC:

Performed detailed financial analysis on expenditure trends

Conducted a comparative analysis with other departments of similar size to assess and challenge the reasonableness of operating budget expenditures

Developed budget projections for the next three fiscal years taking into account identified savings

O IC staff provided substantive input and developed the analysis to support the answers to the OIC criteria.
IBM assisted the OIC in an advisory role by:

Guiding the development of the review approach

Reviewing the quantitative/qualitative analysis and providing a challenge function

Developing overall conclusions
Financial Overview
The OIC's planned spending as per the 2011/12 Mid-Year Review is $10.9M, consisting of 77% for salaries ($8.4M) and 23% for O&M ($2.5M).

Salaries and fixed operating costs account for 85% of the overall budget, resulting in minimal financial flexibility.

Only 15% of the budget is available for other operating costs. 68% of this envelope is program-related while 26% is allocated to the Information Management (IM) strategy, and 6% to internal services.
Over the last three fiscal years, salaries have ranged between 61%-73% of the OIC's expenditures. The increase in salary expenditures has been due to the successful staffing of the majority of vacant investigator positions and the augmentation of internal legal capacity to address court proceedings and deal with complex and contentious cases.

O&M expenditures have decreased over the last three fiscal years primarily due to reduced reliance on external professional services.

Due to effective financial management, lapses as a percentage of the OIC's total authority have been 2% and 1% (including $400,000 of emergency funding to address complex cases), respectively, for the last two fiscal years.

Like other Agents of Parliament, the OIC currently has a relatively small investment plan, other than annual Information Technology (IT) fixed costs ( i.e. IT capital replacement, maintenance, etc. ) and the one-time IM/IT Renewal Strategy funding of $2.1M over 5 years received from a previous Treasury Board submission.

As a result of a PWGSC – Treasury Board Secretariat (TBS) initiative to have a number of small entities located at Place de Ville relocated in 2013/14, the Office has been informed that it must vacant its current premises and finance the move to another location.

Preliminary PWGSC estimates indicate that costs could be as high as $3M
Source of funding remains unknown but TBS has confirmed that it will work closely with the OIC to explore opportunities to secure the funds
If TBS funding is secured, there is the possibility that the OIC would have to pay back these funds similar to a loan arrangement. Any loan arrangement could have significant impact on the OIC`s budget.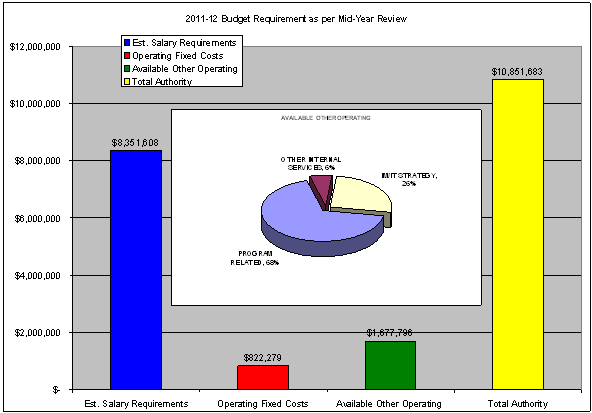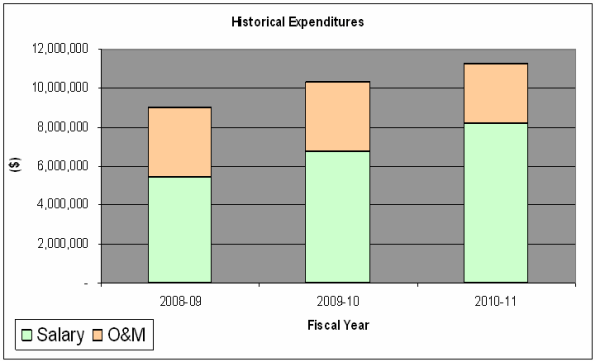 Program
Program

Achieving results?
Government priority and affordable?
Needed and relevant?
Appropriate federal role?
Potential for greater efficiencies through delivery by other organization?
The OIC has a statutory obligation to investigate all complaints. The Commissioner has no latitude in this respect. Notwithstanding, the OIC is in constant search of ways to achieve efficiencies in its day-to-day operations.

In 2007/08, the OIC undertook major structural and operational changes to:

Streamline its investigative processes;

Reduce the inventory of longstanding and complex cases; and

Maximize the timely disclosure of information.

A new business model and innovative case management strategies were adopted to improve service delivery by:

Triaging all new complaints to determine if they can be completed quickly through early resolution processes;

Developing a portfolio approach to large numbers of similar complaints by institution, complainant, type of complaint or subject matter;

Negotiating commitment dates with institutions and, when necessary, intervening at senior levels to assist them in resolving problems in the early stages or to settle outstanding issues; and

Establishing teams of specialized investigators and an internal Special Case Review Committee to deal with and review complex cases.

These measures, coupled with agile case management and improved collaboration with institutions, have resulted in significant improvements in program delivery and tangible results. Specifically, the OIC:

Completed more than 2,000 cases in fiscal years 2009/10 and 2010/11

Decreased the average completion time of an investigation by 8%

Increased the percentage of administrative cases closed within 90 days from 10% in 2008/09 to 32% in 2010/11, enabling resources to focus more intensively on refusal complaints

Substantially reduced its inventory of longstanding cases. At the end of 2010/11 only 115 cases remained from before 2008/09, representing a 93% reduction overall in the inventory of oldest cases; these cases have further been reduced to 80 in 2011/12 and the OIC will strive to close all these files by year-end.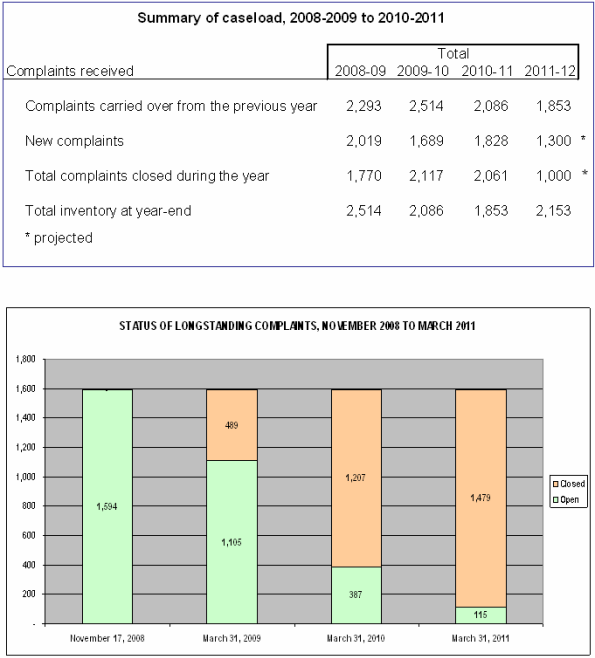 Program

Achieving results?
Government priority and affordable?
Needed and relevant?
Appropriate federal role?
Potential for greater efficiencies through delivery by other organization?
Openness and transparency are government priorities. Compliance with the Access to Information Act is a critical component of achieving these objectives.

The OIC is a relatively small organization with 2011/12 Main Estimates of $10.6M (excluding EBP) and decreasing to $10.1M by 2014/15.

The Access to Information Act explicitly prescribes that the Information Commissioner shall receive and investigate the complaints of individuals who believe that their rights under the Act have not been respected. The OIC's program is mandatory and fundamental to our democratic institutions.

Given the redress regime set out in the Act, there are no other levels of government, private sector or not-for-profit entities that could deliver the OIC's program.

The OIC has amassed years of corporate knowledge and experience in delivering its program. Achievement of greater program efficiencies through delivery by another department or organization is not feasible.
Operations
Operations

Are results being achieved efficiently?
Can program be delivered at lower cost?
How does it compare with delivery of similar programs in the private sector, other levels of government or internationally?
In 2007/08, with the introduction of its new business model, the Office implemented standardized investigation, monitoring and reporting processes and streamlined its operations.

A recent audit found that the Complaints Resolution and Compliance Branch has in place business processes, performance metrics and information, and that staff adhere to legislation and policy directives in completing investigation files. All audit recommendations have been implemented.

Towards the end of 2010/11, IBM was engaged to review and update the investigative and legal resource requirements of the OIC based on the internal and external environmental changes that had occurred since the conduct of the A-base review in 2008/09.

This exercise recommended 42-46 investigative resources and 9 lawyers over the next five years, based on a set of assumptions, including the volume and the profile of new complaints and the inventory of existing complaints, estimated levels of effort associated with different complaint types, and efficiencies expected to be achieved.

The Office's current and projected resource levels are aligned with IBM's recommendations but may need to be revisited based on the impacts of current and future year trends.
 

| Resource Projections | 2011/12 | 2012/13 | 2013/14 | 2014/15 | 2015/16 |
| --- | --- | --- | --- | --- | --- |
| Investigators | 39 | 39 | 39 | 39 | 39 |
| Chiefs | 5 | 5 | 5 | 5 | 5 |
| Total Investigative Staff - as per 11-12 Mid-Year Review | 44 | 44 | 44 | 44 | 44 |
| Lawyers (includes 2 terms for 11/12 and 12/13 only) | 10 | 11 | 9 | 9 | 9 |
The OIC operates in an unpredictable environment where the nature, volume and complexity of complaints and court proceedings are influenced by trends and developments outside of its control.

The recent Federal Court of Appeal decision and the growing number of special delegation complaints* are two pertinent examples impacting operations.

On November 23, 2011, the Federal Court of Appeal dismissed the CBC's appeal of the Federal Court's decision on the interpretation of section 68.1 of the Access to Information Act.

The decision confirms that during the investigation of a complaint under the Act, the Commissioner has the authority to review information that the CBC claims is excluded pursuant to section 68.1 of the Act, other than the identity of journalistic sources, in order to independently assess whether the exclusion has been properly applied.

As a result of this decision, the OIC will resume investigating about 200 complaints which have been on hold for several years. This will require a greater level of investigative and legal effort as the Office will be required to interpret and apply section 68.1 of the Act which is a new provision.
Special delegation complaints have been accumulating and accounting for a higher percentage of the inventory (14% and 17% respectively in the last two fiscal years). These complaints not only involve greater complexity but are slow to advance.

Some of these complaints date back to 2004/05 which renders them more challenging as departmental ATIP personnel change and records become more difficult to locate

A number of complaints will potentially go to court, requiring a high level of rigor and greater effort on the part of legal and investigative staff

The Office has already received 90 new special delegation complaints and expects that this number will reach 154 by year end, the highest number of such cases received over the last 3 fiscal years. It is projected that there will be 383 special delegation cases in the inventory at year end, accounting for about 19% of the total inventory.

In response to the growing number of new and existing special delegation complaints, the Office has initiated a pilot strategy to streamline the investigation of these complaints. The current focus is on complaints involving the application of subsection 15(1) of the Act.

Senior and experienced investigators have been designated to conduct these investigations using a portfolio approach, with a focus on institutions with the greatest number of special delegation investigations

The goal is to minimize the number of contact points and administrative delays and promote consistency and strong working relationships

Once the Special Delegation pilot is completed, it will be assessed for broader applicability to all refusal cases. Due to the Office's success in recent years to quickly resolve administrative complaints, it is projected that 68% percent of the inventory at year end will consist of refusal cases (excluding special delegation).

The OIC is also undertaking further actions to gain additional efficiencies and conduct more timely investigations:

a strategy is being developed to investigate priority cases within a six-month timeline, the feasibility of which will be assessed at the end of the fiscal year.

internal capacity continues to be bolstered to address complex cases and court proceedings and reduce reliance on costly external service providers

investigative processes for administrative complaints are being reviewed to increase formality and ensure that they are dealt with more expeditiously (target is to close 85% of complaints in 90 days)

the Office is promoting collaboration with both central agencies and institutions to resolve outstanding issues. Although the perspective of the oversight body may differ from that of government institutions, all attempts are made to maximize efficiencies and resolve problems in a mutually agreeable manner.
Operations

Are results being achieved efficiently?
Can program be delivered at lower cost?
How does it compare with delivery of similar programs in the private sector, other levels of government or internationally?
In 2010/11, the OIC developed a strategy in order to:

Better align organizational capacity and skill sets to ensure optimal program delivery and results

Address the chronic shortfall in the salary envelope which has historically been subsidized with O&M funding

Address the government-wide cost containment measures imposed in 2010/11

This strategy was developed in a systematic fashion using a set of criteria which included the following:

Develop synergies by logically grouping functions that support or complement each other (e.g., lawyers and investigators involved in refusals and complex investigations)

Increase the number of staff dedicated to the actual conduct of investigations (versus managing investigations)

Adjust the management cadre to better align reporting relationships

Change the mix of administrative support functions and corporate services resources to better respond to requirements in terms of skill sets and levels of expertise

Without this strategy, the OIC's O&M budget would be reduced to less than $500,000 starting in 2012/13 which would be insufficient to cover fixed operating costs of approximately $800K and $1.1M of program-related costs. This would be unsustainable from an operating and program delivery perspective.

In comparison to 2008/09, the 2010/11 the non-salary operating expenditures have decreased by 14% due to reductions in Temporary Help Services (THS), other professional services, and travel costs.

Professional services costs have decreased by 29% over the last 3 years, from $2.5M to 1.8M, as a result of the OIC's commitment to building internal capacity to reduce reliance on more costly external resources.

A four year (2007/08-2010/11) comparative analysis with other departments of similar size to the OIC indicates that:

the average O&M cost per OIC FTE is at the lower end of the range (Range: $19K-$48K/FTE; OIC:$28K/FTE) and will be further reduced by 2014/15

The ratio of Personnel to O&M expenditures is currently comparable to other departments but will decrease primarily due to the sun-setting of the IM/IT strategy funding and use of some of the O&M funding to cover cost containment measures associated with annual salary increases. It is anticipated that the OIC's O&M expenditures will decrease by 50% by 2014/15 in comparison to 2010/11.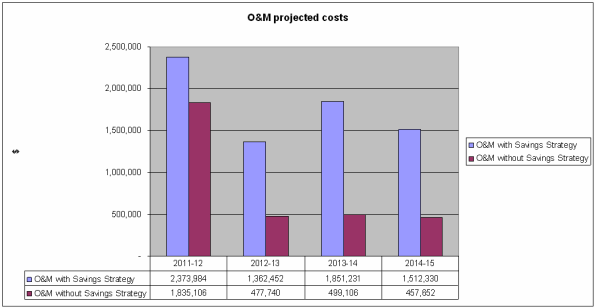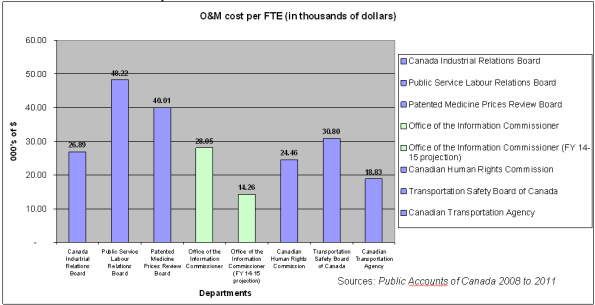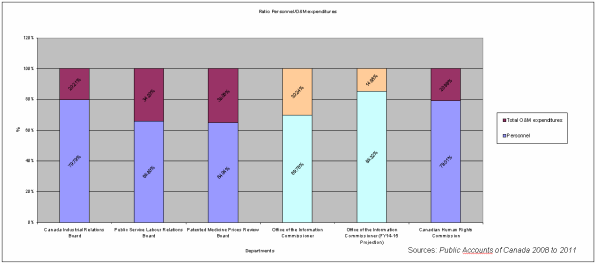 Internal Services
Internal Services

Are they as efficient as possible?
Do they deliver results and value for money?
Have standard business processes been adopted (e.g., Human Resources Business Solution Project, Finance)?
Potential to reduce duplication?
The Office is vigilant in all aspects of its operations to ensure maximum and productive use of resources. This applies equally to Internal Services functions.

Over the last three years, the number of Internal Services FTEs has been consistent with the recommended FTE levels in the 2008/09 A-base Review completed by IBM. It is expected that Internal Services FTEs will decline by about 11% starting in 2013/14.

The 2011/12 budget for internal services has decreased by 7% in comparison to 2009/10 expenditures primarily due to lower O&M expenditures (excludes IM/IT Strategy).

The OIC is committed to leveraging existing federal government solutions to achieve greater efficiencies and cost savings in internal services, where feasible. Examples to date include:

Public Works and Government Services Canada (PWGSC) centrally administers the payment of salaries and the procurement of some goods and services, and provides cheque-issuing services as well as accommodations for the Office.

For the purposes of the Financial Administration Act, the Office of the Information Commissioner and the Office of the Privacy Commissioner (OPC) must submit their trial balances jointly to PWGSC. It was agreed that the OPC would host the financial management system on behalf of the OIC.

The OIC is a member of the working group for the Shared Financial System and Services (SFSS) Project which is looking at identifying business requirements for a new shared financial system potentially hosted by PWGSC on behalf of agents of parliament and small/medium size organizations with similar needs. OIC's participation is aimed at ensuring that its needs are taken into account and position itself to partake in a future shared services financial system should it be offered and is justifiable from a cost/benefit perspective.

The OIC is following the work of the Human Resource Business Solution Pilot with interest. The pilots aims to provide common HR business process and clustered services through a shared IT system by 2013/14.
Internal Services

Are they as efficient as possible?
Do they deliver results and value for money?
Have standard business processes been adopted (e.g., Human Resources Business Solution Project, Finance)?
Potential to reduce duplication?
The Office has been working with other organizations, such as the Office of the Privacy Commissioner, to achieve economies through the joint training of their respective staffs, among other initiatives. In 2013/14, the planned co-location of the OIC with the Office of the Privacy Commissioner and Elections Canada will present new opportunities for collaboration. The OIC has started to work with these organizations as well as other agents of Parliament to explore shared services opportunities, especially with regard to internal services. When and if implemented, shared services will not necessarily result in reduced levels of FTEs.

The OIC has adopted and will continue to implement standard business processes consistent with other departments. These processes will facilitate the Office's transition to future shared service arrangements.

The success of the OIC is predicated on a number of renewal initiatives, including the modernization of its information management and information technology infrastructure.

By the end of 2010/2011, approximately three quarters of the projects identified in the five year IM/IT strategy, including some of the most complex projects, had been completed on schedule and within reduced budgets.

The Office has implemented a new records and case management system for investigations (InTrac). By improving investigative tools and workflow, the new InTrac system will facilitate the efficient and prompt resolution of complaints. It will also enhance reporting and analytical capabilities.

Rollout of an electronic records repository (RDIMS) has been completed

Significant network upgrades have been performed, resulting in a 30 percent reduction in calls to the help desk.

Work is underway to implement an online capability allowing the public to file complaints with a view to integrating it within the case management system.

As part of a knowledge management strategy, individuals are being identified whose knowledge is critical to the organization and the best ways to transfer this knowledge are being determined.
Internal Services

Are they as efficient as possible?
Do they deliver results and value for money?
Have standard business processes been adopted (e.g., Human Resources Business Solution Project, Finance)?
Potential to reduce duplication?
Recent improvements in financial reporting have enabled the Office to closely monitor its spending and make the best possible use of limited resources in this period of fiscal restraint.

To ensure healthy financial management and compliance with the Policy on Internal Control, the OIC commissioned an external firm to conduct a preliminary review of controls over salary, operating expenditures and material management. Only minor improvements were recommended, and they have been implemented.

The Office also developed and introduced future-oriented financial statements, which are prepared on an accrual basis, starting with its 2011/12 Report on Plans and Priorities. This additional information is meant to assist parliamentarians in their consideration of the Estimates and institutions' requests for expenditure authority.

2010/11 marked the successful conclusion of a major recruitment campaign initiated in 2009 to meet business requirements and fill investigator positions in a high-demand professional group. As a result, the organization is now nearly fully staffed and many new staff have benefited from targeted training geared to business requirements. Currently, the Office is working on implementing a comprehensive talent management program which includes training tailored to operational requirements and career development options.

In 2010/11, the Office conducted an assessment of all aspects of security management against the TB Policy. While confirming full compliance, the assessment revealed several gaps which are being addressed. Taking into account available resources, the physical security infrastructure was upgraded and protection of assets and information integrity strengthened. A strategy has been developed to address the more costly and complex security requirements by June 30, 2012.

The foregoing examples attest to the results and value for money delivered by Internal Services functions. These functions not only ensure sound stewardship of public resources but they also contribute to enhanced program delivery.
Conclusions
Since 2009/10 the OIC has implemented program delivery and efficiency improvements that have delivered better results for Canadians.

A number of new strategies and improvement initiatives are being tested and implemented in response to new trends and developments. They will require time to come to full fruition and may result in lower than anticipated productivity as staff transition to new ways of doing business. During this transition, the OIC will need to maintain its resource levels as stable as possible and closely monitor individual performance and productivity.

The Office has demonstrated diligent expenditure management

O&M expenses have been kept in check and significant reductions achieved in professional and temporary help services

Internal services costs are in line with benchmarks for similar sized organizations

The successful implementation of the salary strategy will be critical to ensuring that the Office will have sufficient O&M funding over the next 3-5 years to sustain its operations and program delivery.

Notwithstanding, the OIC is vulnerable to unexpected spikes in workload triggered by events outside of its control such as an influx of complaints or unexpected court case. The Office does not have flexibility within its funding envelope to respond to such increases in its workload.

Any reductions to the existing funding envelope will potentially have significant adverse impacts on program results, including eroding the significant progress made over the last two years in reducing the inventory and the ability to deal with the demands of the current inventory.