2012-2019 Complaint Activity
The Office of the Information Commissioner publishes its workload statistics every year as part of its annual report tabled in the House of Commons and the Senate. To enhance transparency, some data is now available and updated regularly on our website.
Please note that the following statistics do not necessarily reflect final numbers, as adjustments may be required month to month. Only statistics appearing in Annual Reports are to be considered official statistics.
Complaint Activity FY 2019/2020
Text Version

Complaint Activity
 
FY 2019/2020
Apr
May
June
July
Aug
Sept
Oct
Nov
Dec
Jan
Feb
Mar
Total
Registered
233
 
 
 
 
 
 
 
 
 
 
 
233
Closed
138
 
 
 
 
 
 
 
 
 
 
 
138

* Complaints include all complaints registered and Commissioner-initiated complaints
Complaint Activity FY 2018/2019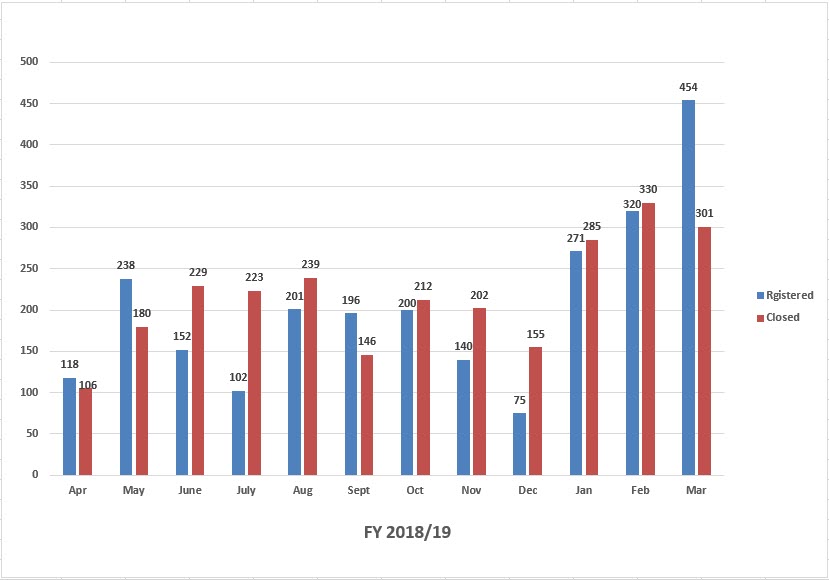 Text Version
Complaint Activity
 
FY 2018/2019
Apr
May
June
July
Aug
Sept
Oct
Nov
Dec
Jan
Feb
Mar
Total
Registered
118
238
152
102
201
196
200
140
75
271
320
454
2467
Closed
106
180
229
223
239
146
212
202
154
286
330
301
2608
* Complaints include all complaints registered and Commissioner-initiated complaints
Complaint Activity FY 2017/2018

Text Version
Complaint Activity
 
FY 2017/2018
Apr
May
June
July
Aug
Sept
Oct
Nov
Dec
Jan
Feb
Mar
Total
Registered
114
281
120
233
229
191
231
246
201
236
255
261
2598
Closed
97
162
139
143
131
129
118
141
132
155
275
352
1974
* Complaints include all complaints registered and Commissioner-initiated complaints
Complaint Activity FY 2016/2017

Text Version
Complaint Activity
 
FY 2016/2017
Apr
May
June
July
Aug
Sept
Oct
Nov
Dec
Jan
Feb
Mar
Total
Registered
193
106
187
109
197
123
144
227
222
183
225
163
2079
Closed
117
162
175
163
198
188
167
266
125
187
171
326
2245
* Complaints include all complaints registered and Commissioner-initiated complaints
Complaint Activity FY 2015/2016
Text Version
Complaint Activity
 
FY 2015/2016
Apr
May
June
July
Aug
Sept
Oct
Nov
Dec
Jan
Feb
Mar
Total
Registered
146
146
78
235
273
200
155
192
113
180
195
134
2047
Closed
67
75
95
103
103
94
84
94
109
117
139
201
1281
* Complaints include all complaints registered and Commissioner-initiated complaints
Complaint Activity FY 2014/2015

Text Version
Complaint Activity
 
FY 2014/2015
Apr
May
June
July
Aug
Sept
Oct
Nov
Dec
Jan
Feb
Mar
Total
Registered
183
163
165
225
119
134
174
121
119
117
95
134
1749
Closed
101
142
96
101
136
119
263
109
110
111
172
145
1605
* Complaints include all complaints registered and Commissioner-initiated complaints
Complaint Activity FY 2013/2014

Text Version
Complaint Activity
 
FY 2013/2014
Apr
May
June
July
Aug
Sept
Oct
Nov
Dec
Jan
Feb
Mar
Total
Registered
277
140
186
168
198
140
182
169
164
139
194
124
2081
Total closed
118
116
125
131
119
96
129
219
90
199
146
301
1789
* Complaints include all complaints registered and Commissioner-initiated complaints
Complaint Activity FY 2012/2013

Text Version
Complaint Activity
 
FY 2012/2013
Apr
May
June
July
Aug
Sept
Oct
Nov
Dec
Jan
Feb
Mar
Total
Registered
166
122
118
 111
206
 86
141
144
133
146
124
99
1596
Total closed
113
108
118
 97
120
 100
151
142
117
134
147
275
1622
* Complaints include all complaints registered and Commissioner-initiated complaints
Data as of April 5, 2013
Complaint Activity FY 2011/2012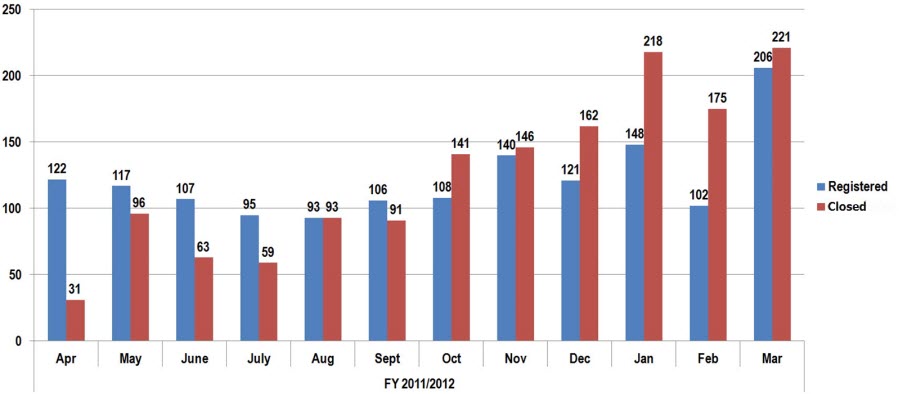 Text Version
Complaint Activity
 
FY 2011/2012
Apr
May
June
July
Aug
Sept
Oct
Nov
Dec
Jan
Feb
Mar
Total
Registered
122
117
107
 95
93
 106
108
140
121
148
102
206
1465
Total closed
31
96
63
 59
93
 91
141
146
162
218
175
221
1495
* Complaints include all complaints registered and Commissioner-initiated complaints
Data as of April 5, 2012