2011–2014 OIC Strategic Plan


PDF Version (192 Kb)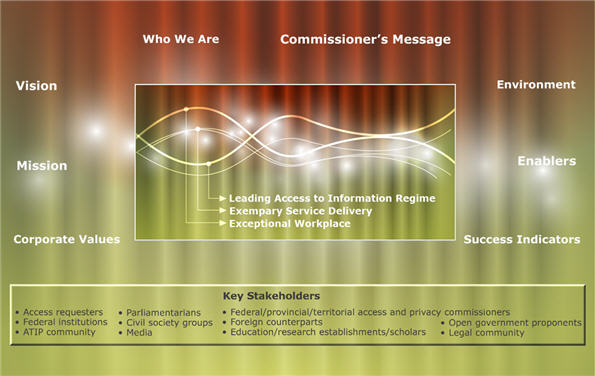 Message from the Commissioner
I am pleased to present the 2011–2014 Strategic Plan for the Office of the Information Commissioner's (OIC), which sets out the OIC's mission and values as well as my long-term vision for the access to information regime in Canada. The plan discusses the context that dictates our priorities for the next three years to effectively defend the right of access to public sector information and to progress towards establishing a leading access regime in Canada.
When I accepted the honour and privilege of serving as Information Commissioner on June 30, 2010, I committed to achieving a high level of performance in investigating access complaints and issues. I also took on the challenge of becoming an effective catalyst for modernizing the access regime while fostering a culture of openness across public sector institutions.
To chart the best possible course of action, I undertook a strategic planning process, engaging OIC staff, managers and key stakeholders. I am very grateful for their highly valuable input. Our key result areas and strategic objectives reflect the consensus, decisions and commitments resulting from this process. They take into account the necessities of fiscal restraint and reflect the Clerk of the Privy Council's priorities for renewing Canada's public service.
These are interesting and promising times for access to information. The external environment has become increasingly fluid, with new developments and opportunities arising on a daily basis. Technology continues to broaden the range of information-sharing devices and applications available, as well as the number of users worldwide. Propelled by the open government movement and undertakings such as WikiLeaks, a significant shift in the balance of information power is occurring everywhere, with important socio-political and economic ramifications. In this context, federal institutions can no longer postpone a full conversion to the digital imperatives of timely and maximum disclosure of information in open formats.
As an ombudsperson and administrative head of this Office, I will ensure high performance by further increasing the operational efficiencies recently achieved by the OIC. As the Agent of Parliament responsible for safeguarding the democratic right of access, I intend to foster self-discipline among institutions and encourage the reversal of the declining trends in timeliness and disclosure. Finally, as an employer, I want to build a workplace of choice around the core values that employees identified during our strategic planning process.
The priorities set out in this Strategic Plan aim to achieve more efficient resolution of complaints, faster processing of requests and increased disclosure for the benefit of information requesters. This will benefit all Canadians by improving government openness and accountability, and by encouraging public participation in the democratic process.
Given the rapid pace of developments, I believe a three-year span is optimal to allow us to succeed in our endeavours and achieve our goals. We will monitor and measure progress on an ongoing basis, adjusting our course of action as required. As such, the OIC's Strategic Plan will remain evergreen, and I invite stakeholders to further contribute to it by sending us their questions and comments.
In its 2006 report How Greater Access is Changing the World, the Center for Science, Technology, and Economic Development at SRI International (Stanford Research Institute) described access as "a catalytic process that enables interactions, contacts and exchanges among people, businesses, and nations." The authors asserted that increases in access inevitably lead to economic expansion, higher levels of personal fulfillment and satisfaction, and a growing hunger for connections and openness. The open government movement has confirmed the accuracy of this theory. We must now rally all stakeholders to determine how Canadian public institutions can best satisfy the basic requirements of openness and transparency.
Part I–Who We Are
The Office of the Information Commissioner (OIC) is an independent public body that was established in 1983 under the Access to Information Act—Canada's freedom of information legislation. It assists the Information Commissioner of Canada in her role as Ombudsperson and Agent of Parliament.
The Office is primarily responsible for carrying out efficient, fair and confidential investigations of complaints filed under the access legislation. It also investigates issues of concern on how federal institutions handle access to information requests from the public.
In addition, the Office supports the Commissioner in her advisory role to Parliament and parliamentary committees on all access to information matters. Where required, it assists the Commissioner in bringing issues of interpretation and application of the law before the courts. In delivering its mandate, the Office protects Canadians' right to access information held by federal institutions and advances a pro-disclosure culture regarding public sector information.
The Office is funded through annual appropriations from Parliament. As a small organization, the OIC has limited financial flexibility, 75 percent of its $12 million budget being allocated to salaries. As of April 2011, the Office counts a workforce of 106 full-time equivalents, including 98 indeterminate employees (92 percent). By comparison, in 2009 less than 75 percent of all positions were staffed with indeterminate employees. Staffing actions were an integral part of the business model the OIC introduced starting in 2008, as was its renewal plan for information management and information technology.
The OIC's business model aims to achieve the following objectives:
increase the efficiency and timeliness of complaints investigations through a streamlined process;
proactively address systemic issues and non-compliance by integrating key information from various sources; and
maximize institutions' compliance with their statutory obligations by using various tools and activities to support and complement investigative and systemic actions.
By the end of 2009-2010, the business model supplemented by new strategies and measures to close as many cases as possible had already paid dividends. Performance metrics will help to confirm realistic targets for the longer term as well as the optimal allocation of resources between investigative units. In the meantime, the Office must factor in the impact of new and emerging trends for access to public sector information and evolving stakeholder expectations. These trends and expectations are discussed in the Strategic Analysis.
The organizational structure of the Office of the Information Commissioner is shown in the diagram below.

The Complaints Resolution and Compliance Branch investigates individual complaints about the processing of access requests, conducts dispute resolution activities and makes formal recommendations to institutions, as required. In accordance with the OIC's Three-Year Plan for report cards, it assesses federal institutions' compliance with their obligations and carries out systemic investigations and analysis.
Legal Services represent the Commissioner in court and provide legal advice on investigations, legislative issues and administrative matters. They closely monitor the range of cases having potential litigation ramifications for the OIC and access to information in general. They also assist investigators by providing them with up-to-date and customized reference tools on the evolving technicalities of the case law.
Corporate Services provide strategic and corporate leadership in human resources and financial management, internal audit as well as information management and technology. They provide policy direction and conduct the Office's external relations with a wide range of stakeholders, notably Parliament, government and representatives of the media. They are also responsible for managing the OIC's Access to Information and Privacy function.
Mission
Defend and protect the public's right of access to public sector information by conducting efficient, fair and confidential investigations, by providing expert advice to Parliament, and by advocating transparency to ensure government accountability and citizens' participation in democracy.
Vision
Canadians benefit from a leading access to information regime that values public sector information as a national resource, that is recognized for its state-of-the-art legislative framework, and that upholds information rights to ensure government transparency, accountability and citizen engagement.
Values
OIC employees and managers share and adhere to the following core values as fundamental principles to guide their behaviour, interactions and decision making, at the individual and institutional levels.
Excellence: Serve with competence, efficiency and diligence
Achieve the highest standards in service delivery
Conduct investigations with professionalism and due diligence
Seek effective solutions through evidence-based analysis
Foster a culture of continuous learning and sharing of skills
Leadership: Champion efforts to modernize access to information
Exhibit a commitment to freedom of information as a central tenet of democracy
Build exceptional expertise in investigative processes
Promote active transparency through exemplary practices
Evolve and adapt to change through innovation
Integrity: Act with reliability, impartiality and honesty
Maintain the public trust through transparent and consistent actions
Ensure that OIC processes can withstand public scrutiny
Take full responsibility, collectively and individually, for actions and results
Balance openness with the need to protect confidential information
Respect: Demonstrate courtesy, fairness and collaboration
Promote a sound work environment and work life balance
Value diverse strengths, backgrounds and perspectives
Encourage collaborative opportunities with staff and stakeholders
Respect and reflect Canada's diversity and linguistic duality
Part II–Taking Stock: A Strategic Analysis
The OIC's roadmap for the next three years takes into account major trends in today's environment that present challenges and opportunities for fulfilling the organization's mission and long-term vision. These trends are grouped under five main themes: the globalization of knowledge, driven by technology; the evolving shift in the balance of power; obstacles to openness; the nascent commitment to open government; and institutional challenges stemming from workload, demographic and resource pressures, among others.
Technology and the globalization of knowledge
In 1983, by enacting the Access to Information Act, Canada was among a dozen countriesFootnote 1 to empower their citizens by giving them a right of access to public sector information. The operating environment in those days was rather simple by today's standards. There were no personal computers, no search engine tools, no Web and no BlackBerries. Information was primarily paper-based. Valuable statistical data were stored on giant reels. As a result, retrieving any specific information was highly time-consuming.
In the 1990s, the Web 1.0 digital revolution enhanced access to information and service delivery by providing a more efficient dissemination platform. Over the following decade, further developments in information and communications technology greatly accelerated government-to- citizen transactions while increasing the number of delivery channels.
Since the beginning of the millennium, the rise of Web 2.0 has democratized the creation process itself through applications that foster interactivity, interoperability and collaboration. Today's technology enables everyone to be content creator, publisher and sharer of information. As a result, there is now a massive accumulation of information that constantly shifts and flows across vast distances at twittering speed.
Technology developments have been highly instrumental in shifting economies from staple production to knowledge creation. Knowledge is recognized as the driver of productivity and economic growth. In this context, faster and greater access to information is seen as critical to improve a country's competitive strength.
These trends have highlighted and contributed to the increasing horizontality and globalization of issues. Today increasing volumes of information flow across sectors, jurisdictions and borders. More parties are involved in policy development and decision making. Two of the top three ideas submitted to the federal government's digital economy consultation from May to July 2010 were for more access to public sector information and data.
These realities have obvious ramifications for the administration of access to information regimes. The public expects faster access to wider sources of government information, at little or no charge, in a variety of formats that enable reuse and redistribution. If the information has not been proactively disclosed, institutions must be able to quickly retrieve all responsive records, efficiently consult interested parties, as required, and disclose in a timely manner all the information the requester is entitled to.
From passive recipients to active participants
The digital revolution has brought about an important shift in the balance of power between government and citizens. Members of the public not only expect faster and wider access to government information, they demand direct accountability and immediate response. Citizens increasingly expect that government institutions will solicit and take their views and knowledge into account in public decision making. Such expectations are widely shared by the younger generations of employees within the public service.
These trends are precisely the driving forces behind the open government movement.Footnote 2 In Canada and worldwide, various initiatives of differing scopes are occurring at different levels to promote information sharing and collaboration among public servants, and between public servants and citizens.
Among the trend setters is President Barack Obama, who instituted in 2009, in both policy and practice, his Open Government Initiative for greater transparency, participation and collaboration. In the United Kingdom, Prime Minister David Cameron's Big Society Declaration has led to the release of substantial raw data sets for the purpose of creating a myriad of entrepreneurial opportunities. In Australia, the Information Commissioner John McMillan is set to play a key role in the national Gov. 2.0 agenda for openness, transparency and digital engagement.
In Canada, following a wide range of seminal initiatives from grassroots organizations, open data are now gaining ground in a growing number of Canadian cities. As of February 2011, Vancouver, Nanaimo,Toronto, Edmonton and Ottawa had established portals; Montreal, Calgary, Hamilton and a few provinces are looking into launching their own. Internationally renowned Canadian activist David Eaves warned that failure to adopt open data at the federal level "would cause Canada to lag in an important space that is beginning to reshape how governments work together and how they serve and interact with citizensFootnote 3."
In September 2010, along with federal, provincial and territorial access and privacy counterparts, the Information Commissioner of Canada issued a joint Resolution on Open Government, calling for greater openness and transparency from all levels of government. Soon after, the Liberal Party of Canada adopted an open government platform. The Green Party followed suit, calling for a federal open-data policy and the overhaul of the access legislation.
In January 2011, the Parliamentary Standing Committee on Access to Information, Privacy and Ethics undertook a study on open government . A wide range of influential experts and open-data practitioners from Canada and abroad have appeared before the Committee. This study represents a critical and urgent step toward developing a made-in-Canada strategy for open government.
Enabled by new technologies, individuals can now join forces into creative, collaborative communities and quickly mobilize across wide distances in support of or against specific policy issues or decisions. As stated in a 2005 OECD Policy Brief on Public Sector Modernisation and Open Government:
The rapid rise of civil society organisations has also contributed to independent monitoring of open government... Their capacity for monitoring government action is enhanced by participation in global networks which can mobilise diverse sources of expertise; and an innovative use of new information and communication technologies to collect, share, analyse and disseminate publicly available information. Their adoption of methods used by governments themselves...and their capacity to raise public awareness via the media... makes them a force to be reckoned with.
In this context, mass media's role can be seen as evolving from information gatekeepers back to investigative journalism and public engagement. As Maclean's columnist Andrew Potter wrote in December 2009:
The digital revolution "has pretty much put the old information gatekeepers out of a job…The culture has changed from one marked by information scarcity to one of plenitude, and there is no longer value to be had in gatekeeping or rationing. We live now in an attention economy, and the result has been a transfer of power to the masses, who will shop their eyeballs and scarce time to the most interesting bidder."
In the absence of greater public disclosure, the evolving role of media may entail making greater use of access provisions as a tool to provide insight into the workings of government and hold it accountable. Alternatively, they can now turn to new organizations such as WikiLeaks, OpenLeaks or the homegrown QuebecLeaks, which disseminate a range of documents of "ethical, political and historical significance" from around the world, while protecting the identity of sources.
In June 2010, nine Canadian associations of journalists signed an open letter,Footnote 4 "asking editors to devote the time and money it takes to dig beyond the stage-managed press conferences to get to the real story." They called on "journalists to stand together and push back by refusing to accept vague email responses to substantive questions." The intent is clearly to engage the public against what has been described as a threat to the public's right to know: "Every time a minister refuses to comment, a critical piece of information is withheld or an access request is delayed, Canadians deserve to know."
These evolving relations and expectations have significant implications for the Office of the Information Commissioner. Interest groups will look to the ombudsperson for guidance, coordination and focus. The media, in particular, will be quick to criticize any perceived lack of action, shortcoming in performance or inconsistency in messages.
Obstacles to openness
One would expect that the trends previously depicted would have altered significantly the manner in which institutions plan and implement access to government information. Various factors have inhibited the paradigm shift from reactive to proactive disclosure.
As several prominent experts have argued, Canada has gone from being a world leader in public openness to trailing some of the new democracies and developing nations.Footnote 5 Although its purpose clause is still valid today, the antiquated Access to Information Act reflects a reactive and paper-based mode of disclosure, at odds with today's proactive dissemination of electronic information. Work is needed to modernize the legislation, promote active and routine disclosure, and facilitate the convergence of federal standards and principles with the more progressive ones that have emerged across Canada and elsewhere in the world. Greater vigilance is also required to prevent the continued legislative erosion of the right of access through "back-door" amendments to various pieces of legislation.
The 2008−2009 report cardsFootnote 6 on the processing of access requests clearly showed that government institutions have not kept pace with today's dynamic, fast-paced and digital environment. Information management deficiencies-such as outmoded, inconsistent or inefficient practices and systems-make the retrieval of records time consuming, uncertain and incomplete. Such deficiencies increase the cost and the level of effort associated with access to information. If institutions cannot effectively manage their information, they will most likely have difficulty in responding to information requests in a timely, complete and consistent manner. In 2009−2010, Library and Archives Canada collaborated with the Treasury Board Secretariat to develop a Directive on Recordkeeping, but implementation will take place over several years.
With a few exceptions, federal institutions have shown hesitation and inconsistencies in opening data and using collaborative tools, such as wikis and blogs, and social media, notably Facebook and Twitter. GCPEDIA, the government-wide internal wiki, has attracted over 20,000 signed-up users and a growing number of articles and edits by users in its two-year existence. It has yet to deliver its full collaborative potential, particularly for policy development.Footnote 7
Yet, in his last two annual reports to the Prime Minister,Footnote 8 the Clerk of the Privy Council-the public service top official-called for using more collaboration, innovation and better use of Web 2.0 technology. In 2011, the Clerk reiterates the "need to nurture a more performance-oriented, collaborative and innovative culture by, for example, taking greater advantage of Web 2.0 tools to deliver on our businessFootnote 9."
In A Relevant and Connected Public Service,Footnote 10 the Prime Minister's Advisory Committee on the Public Service also recommended taking "full advantage of collaborative technologies to facilitate interaction with citizens, partners and stakeholders." According to A Public Service for Challenging Times,Footnote 11 the Committee's March 2011 report: "A decade ago Canada's Public Service was recognized internationally as a leader on the digital front with its government-on-line initiative. For a variety of reasons, it is now falling behind in the use of new technologies and in adopting whole-of-government approaches to its work."
The Advisory Committee recommends that the public service "pay particular attention to the emergence of new ways of adding value, as well as changes in how knowledge is transmitted in a global economy." It intends to look in more depth at the "role of technology and social media in the transmission of knowledge and ideas, and their effect on policy development in a globalized world."
At a fundamental level, this implies eliminating the deeply ingrained resistance to sharing government information. Report cards have highlighted the fact that, due to a lack of leadership at the highest levels of government, a large number of institutions do not give access to information the priority it deserves as a statutory responsibility. ATIP programs are often under-resourced, lacking stable funding, a sufficient number of qualified employees and adequate tools.
Consequently, performance in terms of timeliness shows steady erosion in the percentage of access requests completed within 30 days. From 69 percent in 2002−2003, the percentage slipped to 56 percent in 2009−2010Footnote 12. The use of time extensions for more than 30 days due to consultations increased by 119 percent. The percentage of requests resulting in full disclosure declined from a peak of 41 percent in 1999−2000 to 16 percent ten years later. Clearly, work is needed to reverse these trends.
Instead of reflecting the presumption of disclosure inherent in the Act, the exercise ofdiscretion in determining which information to disclose has been skewed toward greater protection of information. For example, the percentage of exemptions claimed for national security increased to 22 percent in 2009−2010 from 7 percent in 2002−2003.
Until recently, proactive disclosure at the federal level had generally been limited to fulfilling policy requirements issued ten years ago. These include posting information related to travel and hospitality claims, grants and contributions, as well as government contracts. Only a fraction of the 250 federal institutions covered by the Act have taken the voluntary step to post their access to information requests online. The lag and hesitation have been attributed to policy and procedural issues, licensing, language and privacy considerations, as well as network security concerns.
Commitment to open government
On March 17, 2011, Treasury Board President Stockwell Day launched a 12-month pilot project for an online Open Data PortalFootnote 13 involving 10 federal institutions. The next day, he announced a commitment to expand open government through three main streams:Footnote 14
Open Data, or datasets provided online in machine readable and reusable formats for commercial, research or community purposes.
Open Information, which is about proactively releasing information on government activities on an ongoing basis. Among other things, "all institutions subject to the Access to Information Act will be expected to move toward publishing summaries of completed access to information requests in both official languages on their websites." The posting of a virtual library of reports commissioned by the government will be explored through a pilot project.
Open Dialogue, which will enable citizens to participate in the decision-making process through Web 2.0 technologies

Footnote

15.
All stakeholders will be closely watching the outcome of these initiatives. For one, the Canadian Medical Association Journal was quick to notify its skepticim. The shift to open government is seen as a challenge, given federal health agencies' approach to pharmaceuticals where "commercial interests supersede the need for disclosureFootnote 16 ." These situations reinforce the continued relevance of a strong Access to Information Act to help determine the fair balance between the legitimate need to protect information in the public interest and the public's interest in disclosure.
An official commitment to open government represents an important step forward in effecting the needed convergence of what Internet and E-Commerce Law specialist Michael Geist called "the two tracks of open government-access to information and open dataFootnote 17." As an independent source of expert knowledge on access issues, the Information Commissioner is well positioned to catalyze stakeholder engagement and further facilitate the convergence of efforts aimed at achieving greater access as part of open government.
Institutional challenges
Other trends and events impact more directly the OIC's ability to carry out its mission and progress toward its long-term vision. A major challenge is the unpredictability of caseload and court actions. The OIC has limited control on situations or issues that can trigger complaints. It is considerably influenced by the way in which information requests are handled by federal institutions. Court decisions also influence how the Office and other parties interpret the roles and responsibilities of the OIC as an oversight agency. They determine both the scope and limitations of the OIC's investigative work as well as its litigation workload.
Moreover, the complexity of the caseload has substantially increased over the last two years. The business model the OIC introduced in 2008 was based on an equal percentage of administrative and refusal complaints. Whereas administrative complaints pertain to delays, extensions, fees and similar issues, refusal cases involve the application of complex and contentious exemptions dealing with national security and other sensitive matters. Partly as a result of successful strategies to quickly resolve administrative complaints, 75 percent (over 1,500 files) of the inventory consists of refusal and old cases that raise complex and unexpected challenges.
Complex or contentious cases require more sophisticated analytical skills and legal expertise. They might involve the use of formal investigative powers (such as subpoenas and formal inquiries). They might also give rise to legal proceedings where court interpretation or intervention is necessary to advance compliance with the legislation.
Another challenge impacting the OIC has been the high turnover of access professionals, both horizontally and vertically, due to changing demographics. The high turnover of ATIP officers and coordinators compounds the risks of delays for complex files, as newcomers may not always have all the necessary experience or legal background to understand how the law applies in their specific sector. In turn, this influences the number of complaints as well as the duration and complexity of investigations.
During 2009 and 2010, the OIC conducted a successful recruitment campaign to fill approved positions and meet business requirements. Consequently, OIC demographics as of January 2011 indicate that only 19 percent of employees have been with the organization for more than 5 years. Among investigators, 57 percent have less than 3 years of experience at the OIC. Training and knowledge transfer are therefore critical to developing internal expertise in the particulars of the OIC's investigative function and tools and the ever-evolving technicalities of the case law. The organization must also learn how best to leverage the perspectives and expectations of younger cohorts of employees with respect to work and the workplace.
Budget 2010 announced a number of government-wide cost containment measures for the next three years to address the budgetary deficit. The impact of fiscal constraint on the access regime is twofold. First, it might exacerbate the financial pressures under which ATIP programs operate, resulting in longer consultations, greater delays and/or incomplete responses to access requests.
Second, the measures represent a significant challenge for a small organization like the OIC, with little flexibility to reallocate resources internally. They make it vulnerable to any new pressures that may arise in the form of additional litigation, a sudden surge in complaints or other unexpected and urgent situations. If realized, these risks could jeopardize the organization's ability to deliver effectively on its mandate. To keep within appropriations, management may have to cut costs in key enabling areas, such as training, computer replacement, and the internal audit function. Cost containment measures require the OIC to achieve greater efficiencies in delivering on its mandate. This is why a key OIC priority is to reduce and maintain its year-end inventory at a manageable size of about 500 cases by 2013–2014.
The OIC must also see to it that an important corporate obligation does not fall victim to fiscal restraint. As an Agent of Parliament vested with the authority to monitor the behaviour of other institutions, the Office must demonstrate sound stewardship of public funds and resources as well as the highest standards of accountability.
Accountability implies providing reliable, meaningful and timely information to Parliament and the public at large on the organization's performance and management practices. To ensure sound stewardship and maximum accountability, the OIC will continue to leverage and publish the results of internal audits and the advice and recommendations of its independent Audit Committee on all management issues and, as appropriate, on specific priorities, concerns and opportunities.
These different institutional pressures and obligations compound the fundamental challenge that the OIC must meet over the next three years. That is to achieve and show outstanding results as an oversight agency to reverse the declining trends in timeliness and disclosure of public sector information.
Key Result Area:
A Leading Access to Information Regime
As the Agent of Parliament responsible for safeguarding the democratic right of access, I intend to foster self-discipline among institutions and influence the regime into reversing the declining trends in timeliness and disclosure of information. I will work with institutions and requesters to identify systemic problems and remedies. I will assist Parliament and central agencies on the best means of modernizing the access legislation and the way it is administered. I will maximize synergies to bring about greater government transparency and accountability.

─Information Commissioner
Strategic Objective
Provide leadership and expertise to reverse the declining trends in timeliness and disclosure of public sector information.
Goals
Through the wide range of powers, tools and activities set out in our compliance continuum:
Assist Parliament in modernizing the access to information regime;
Increase the timeliness of responses to access requests; and
Maximize disclosure of public sector information.
Outcome

High-Level Activities 2011–2014

Expert advice to Parliament

Build up the expertise required to effectively assist Parliament in holding institutions accountable and in protecting the right of access to public sector information.

Support Parliament's initiatives to modernize the access to information regime.

Timeliness of responses to access requests

Complete the diagnostic of delay-related issues through the continued implementation of the Three-Year Plan for report cards and systemic issues.

Follow up on progress achieved in implementing recommendations for improvement with Parliament, central agencies and individual institutions.

Foster compliance through the assessment of extension notices.

Maximum disclosure of public sector information

Resolve complaints and address systemic issues with a view to facilitating maximum disclosure of government information.

Contribute through court representation to the development of a jurisprudence that widens the scope of access to government information.

Champion increased government transparency and the implementation of open government standards.

Dynamic stakeholder relations

Maximize the impact of collaborations and stakeholders' engagement in efforts to improve the access regime.
See Success Indicators for a Leading Access to Information Regime
Key Result Area:
Exemplary Service Delivery to Canadians
As an Ombudsperson and the administrative head of this Office, I am committed to achieving a high level of investigative performance by further increasing operational efficiencies. Since 2009, the OIC has become faster and better at resolving complaints of an administrative nature. We must now review our business model and case management strategies to take into account the increased complexity and sensitivity of our caseload. We will develop investigators' analytical skills and legal expertise accordingly. We will also build up our strategic and litigation capacity to bring cases of non-compliance before the courts, where required, and to influence jurisprudence in favour of disclosure.
—Information Commissioner
Strategic Objective
Conduct efficient, fair and confidential investigations and effectively address issues of non-compliance with the legislation.
Goals
Manage investigation cases strategically and according to their level of priority and complexity.
Optimize the strategic and litigation capacity of Legal Services.
Outcome
High-Level Activities 2011–2014
Centre of investigative expertise
Implement a strategic approach to caseload management.
Leverage information management and technology to increase the efficiency of business processes.
Develop tools to train and assist investigators.
Centre of legal expertise
Optimize the strategic and litigation capacity to bring complex cases and fundamental points of access law before the courts.
Build the capacity to become a centre of expertise on legal proceedings pertaining to freedom of information and access issues.
See Success Indicators for an Exemplary Service Delivery to Canadians
Key Result Area:
An Exceptional Workplace
As an employer, I am committed to building a workplace of choice, which will nurture and demonstrate the values of Excellence, Leadership, Integrity and Respect. A key initiative will be the implementation of talent management, with a special focus on skills development and knowledge transfer, to allow everyone to contribute to their full potential. As a result, the OIC will re-establish itself as a centre of investigative and legal expertise on access matters for the benefit of all Canadians.

—Information Commissioner
Strategic Objective
Create an exceptional workplace.
Goals
Improve and facilitate performance and workload management through sound planning and ongoing feedback.
Provide the information, tools and systems needed to do the job well.
Develop and implement a talent management framework to better integrate performance, learning and career development needs, and succession planning.
Nurture the sense of ownership and accomplishment through ongoing communications and sustained opportunities for engagement.
Outcome

High-Level Activities 2011–2014

A workplace reflecting employees' core values

Implement a comprehensive talent management program, which will integrate performance management and targeted training for all employees, as well as succession planning and retention of corporate memory at the senior management levels.

Develop an enabling infrastructure, which will provide employees and managers with the tools and systems they need to effectively plan, manage and carry out their duties and functions.

Facilitate dynamic and continuous communications and collaboration.

Support a sound work environment and work life balance.
See Success Indicators for Exceptional Workplace
Critical Enablers of Success
The following requirements must be supported to ensure the success of the OIC's Strategic Plan. Working plans have been developed for these critical enablers and are in the process of being implemented.
IM/IT Infrastructure
We must continue with the implementation of our multi-year renewal strategy for information management and information technology (IM/IT). This includes:
revitalizing the information management program;
completing the transition to a new case management system for investigations and legal cases;
deploying the Records, Document and Information Management System (RDIMS)
across the organization;
investing in the renewal of the IT infrastructure to prevent rust-out; and
exploring options to integrate collaborative technologies and social media.
Sustainable Budget and Sound Stewardship
Given the current context of fiscal restraint, we must maximize our efficiencies and resources in support of our immediate strategic priorities. The Office must also develop strategies to obtain adequate funding to accommodate the requirements associated with court proceedings and complex investigations, and to address security imperatives. For major activities such as the Right to Know Week and the Seventh International Conference of Information Commissioners, we need to continue to explore new partnerships and funding opportunities.
Success Indicators
For each key result area, the following indicators help define and measure progress in achieving the goals we have set for the access regime as a whole and for our own performance.
A Leading Access to Information Regime
New federal legislation reflecting most progressive access standards
Improved response time to process access requests
Increase in access requests resulting in greater disclosure
Implementation of the federal open government strategy
Exemplary Service Delivery to Canadians
Reduction in number of open complaints at year-end
Increase in administrative complaints resolved in 90 days
Reduction in turnaround times for complex cases
Recognition of OIC as a centre of investigative and legal expertise
Exceptional Workplace
Increased or steady workforce retention
Increased percentage of employees benefiting from training or career development
Employees' assessment of OIC performance in operationalizing the organization's core values